Recent fires in Augusta have claimed the lives of beloved furry friends. Pets are part of the family and it is always devastating to experience their loss due to events outside one's control. There are a few things animal owners can consider ahead of time in the case of a fire. Here are some statistics and suggestions to keep your loved pets safe (www.kidde.com/home-safety/en/us/fire-safety/hot-topics/pet-safety). 
Pet quantity window cling:  In an emergency, first responders need to be able to quickly assess the number of pets in a home. Consider attaching a non-adhesive decal to a window near your front door to let rescuers know how many animals are inside.
Evacuation plans: Pets should always be included in a family's evacuation plan. Stay aware of their typical hiding spots and where they often nap in case you must evacuate quickly, and assign a family member to account for each pet. Keep an emergency kit with food, medication, and a leash near the exit. When you're not home, keep pets in areas near entrances where emergency responders can easily find them.
—-
(Family Features) Pets are not just animals, they're members of the family. While four-legged friends bring joy, it's important to protect them in the event of a home emergency.
According to the American Veterinary Medical Foundation, every year 500,000 pets suffer from smoke inhalation and 40,000 die due to home fires. As you make safety preparations, remember to account for your pets. Know where they like to hide, include them in your evacuation plan and make sure your smoke and carbon monoxide alarms are up to date.
Find more fire safety tips for pets at Kidde.com/petsafety.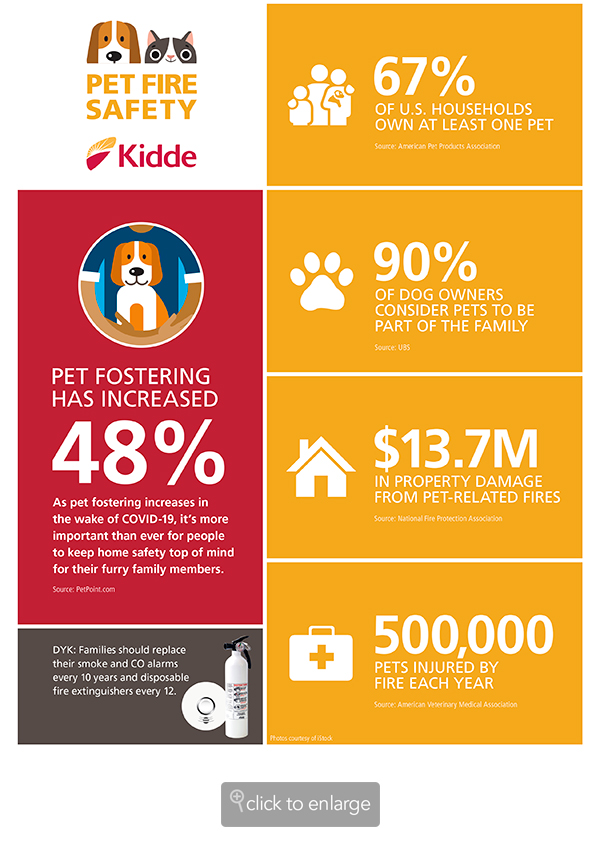 SOURCE:
Kidde