(Family Features) Cold winter weather calls for comfort food like these delicious and moist pumpkin bars.  Start your favorite movie and warm up your chilly day with a cozy blanket, a mug of hot chocolate and a plate of some of these incredible Spiced Pumpkin Bars.
Find more dessert recipes at Culinary.net.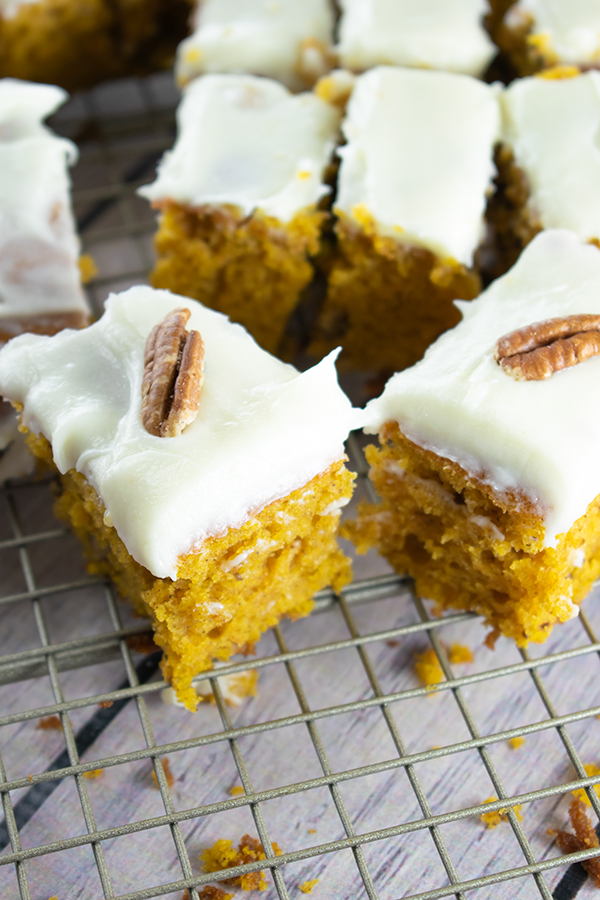 Spiced Pumpkin Bars
2  cups flour
2  tsp baking powder
2  tsp ground cinnamon
1  tsp baking soda
1/4  tsp salt
4  eggs
15 oz can of pumpkin
1 2/3  cups sugar
1  cup cooking oil
3/4  cup chopped pecans (optional)
8 ounce package cream cheese, softened
1/4  cup butter, softened
1  tsp vanilla
2  cups powdered sugar (sifted)
Pecan halves (optional)
In a medium bowl stir together flour, baking powder, cinnamon, baking soda, and salt; set aside.
In a large mixing bowl beat together eggs, pumpkin, sugar, and oil on medium speed. Add the flour mixture; beat until well combined. If desired, stir in chopped pecans.
Spread batter into an ungreased 15x10x1-inch baking pan.
Bake in a 350° F oven for 25 to 30 minutes or until  the center comes out clean. Cool completely in pan on a wire rack.
In a medium mixing bowl beat together cream cheese, butter, and vanilla until fluffy. Gradually add sifted powdered sugar, beating until smooth.
Frost pumpkin bars. If desired, top with pecan halves. Cut into squares. Store, covered, in refrigerator up to 3 days.
Recipe adapted from Better Homes and Gardens.
Watch video to see how to make this delicious recipe!